March 21, 2012 12:11 AM | Permalink |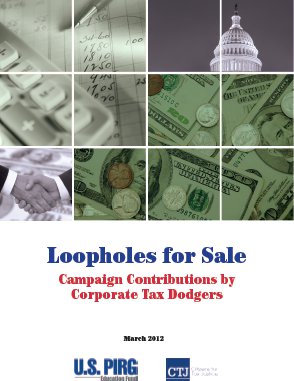 Recent polls show a large majority of Americans, including small business owners, are convinced that profitable corporations are not paying enough in taxes. Citizens for Tax Justice and U.S. PIRG's Loopholes for Sale pursues the intersection of corporate campaign contributions to members of Congress and the absence of Congressional action to close corporate tax loopholes and raise additional revenue from corporate taxes.
The report includes the following findings:
280 profitable Fortune 500 companies collectively received $223 billion in tax breaks between 2008 and 2010 while contributing $216 million to Congressional candidates over the last four election cycles.
The thirty most aggressive tax dodging corporations—dubbed the "Dirty Thirty"— collectively paid a negative tax rate between 2008 and 2010 while spending $41 million on Congressional campaign contributions.
Of the 534 current members of Congress, 524(98 percent) have taken a campaign contribution from one or more of these thirty corporations since the 2006 election cycle.
Read Our Press Release With Key Findings