We retired Tax Justice Blog in April 2017. For new content on issues related to tax justice, go to www.justtaxesblog.org
September 16, 2015 3:15 PM
New data from the Census Bureau show that the Earned Income Tax Credit (EITC) and the refundable portion of the child tax credit (CTC) lifted 9.8 million people out of poverty, including 5.2 million children, in 2014. Taken together, these credits lifted more people out of poverty than any other program besides Social Security.
The new Census data revealed that the national poverty rate remained statistically unchanged at 14.8 percent in 2014, 18 percent higher than it was before the economic recession and 33 percent higher than its historic low in 1973. According to the latest international data, the U.S. poverty rate is the third highest among 33 economically developed countries in the world.
The data make a compelling case for using tax policy as one tool for fighting poverty. The nation's lawmakers should take steps to not only maintain but expand effective anti-poverty programs such as the EITC and CTC. A critical first step would be to make permanent recent expansions to the credits enacted in 2009 under the American Recovery and Reinvestment Act. These provisions are set to expire in 2017, which would mean an annual loss on average of $1,073 to more than 13 million families.  Congress should also substantially improve the effectiveness of the EITC by expanding it to childless workers. One proposal would provide an estimated 10.6 million individuals and families an average benefit of $604.
For more on the new Census data and the critical role of the EITC and CTC, read CTJ's new report: The EITC and CTC Greatly Reduce Poverty; Congress Must Act to Strengthen These Programs.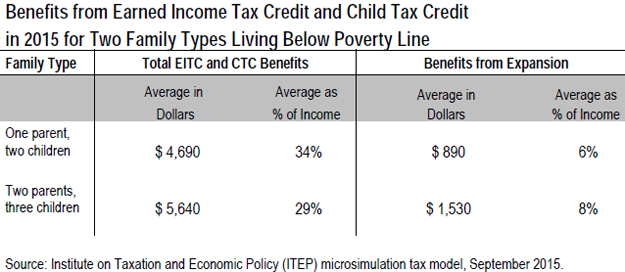 More Resources on the EITC/CTC:
Four Reasons to Expand and Reform the Earned Income Tax Credit – June 11, 2015
Proposed Expansion of EITC to Childless Workers Would Benefit 10.6 Million Individuals and Families – March 4, 2015
Making the EITC and CTC Expansions Permanent Would Benefit 13 Million Working Families – February 20, 2015